Want a website that gets you more customers? Book a

Free Website Blueprint Call.
Let's map out what you need to turn your website into a revenue-generating machine!
During this 30 min call we will:
Identify how fast you want new customers and more sales in the next 6-12 months
How your website will deliver your business strategy
How to know if your website makes it easier or harder for people to buy from you
Plan what your new website will need so it can support your business growth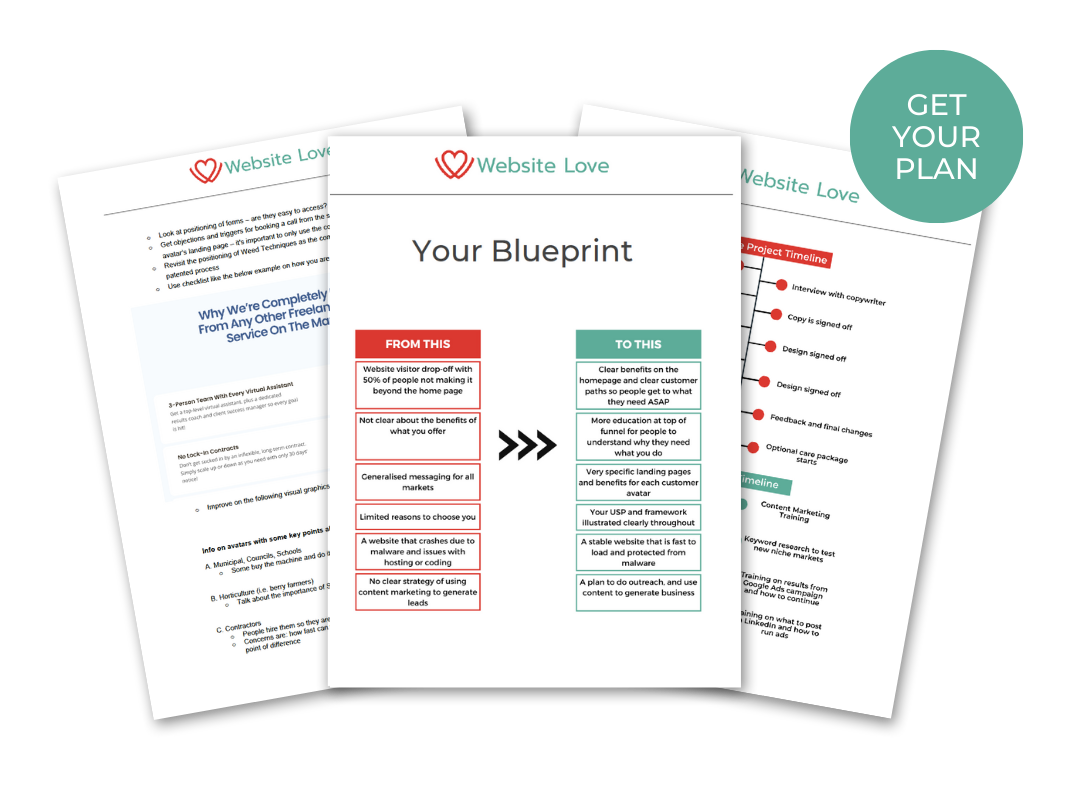 Trusted by leading brands & over 1,000 businesses
"I picked up 5 new clients in the first two days of the site going live"
Alexandra Middleton
Naturopathic Nutritionist
"I made more money with my new site in 1 month than I did in the previous 2 years with the old one"
Julie Dixon
Founder, Helmut Brims
"Sales are up 35%, newsletter opt-ins are up 50%"
Sabrina Lynn
Founder, Rewilding for Women
"The best investment to my business that I ever have in my 14 years of business"
Aleksandra Pinneri
Director, Unveil the Beauty
Heather and the Website Love team have been an absolute joy to collaborate with. From the moment we started working together on a website build, they displayed an exceptional level... read more of generosity in sharing their time and expertise. They made the entire process feel effortless and straightforward. It's clear that they truly grasped the brand and requirements, resulting in a delivery that exceeded expectations. I highly recommend Website Love to anyone seeking a team that not only understands their clients but also delivers exceptional service.

Letitia Grzes


July 5, 2023

Thank you Heather for your professionalism, expertise and creativity. Your patience and support to align all our services on social media has been outstanding. The design of our website depicts... read more our vision for our services perfectly. Your attention to detail and scope is on point! After 2 failed attempts with others to achieve our vision you absolute nailed it beyond our imagination! Thank you!

Anastasia Papadopoulos


May 8, 2023

Heather, Neil and the rest of the team have been absolutely amazing in helping us build our website tailored to our needs over the years. Plus, Heather offers great mentoring,... read more tips and tricks in helping you drive more sales and better SEO performance for your site. For friendly, reliable service, I would highly recommend 'Website Love.'

Ashley Lind


March 2, 2023

My 1 on 1 sessions with Heather are INCREDIBLY valuable and each time leave inspired and confident. Highly recommend her coaching and expertise

Boutique Equines


August 10, 2022

Excellent Customer Service and a fantastic result. I couldn't recommend Website Love more.

Colleen Woodstock


June 10, 2022

I have been doing the Websites that work training with Heather. WOW! It is amazing and I am learning so much. She gives such great information as well... read more as telling you simply how to make a big impact. Will definitely keep working with Heather.

Amy Leschke


June 10, 2022

Heather and the team at Website Love are my go to experts for anything to do with my customised WordPress website. They are great to work with personally, and always... read more take the time to listen to what I am looking for (which can take a while)... I really appreciate that level of attentiveness from designers. And the end result always ends up being what I have asked for (which is not always the story with other designers). Two thumbs up and five stars from me!

Alexandra Middleton


June 10, 2022

Heather and her team at Website Love have done a sensational job on everything digital for my brand I have asked for. Even some I haven't asked for but needed.... read more They have also worked on several of my clients sites from creation to going live and that work has also been outstanding. They have my highest recommendation!

Glen Campbell


May 10, 2022

Heather has been so refreshingly helpful & honest which is hard to find in this space. Her suggestions and advice are always well thought out, she cares about the results... read more we get and I'm so grateful we have her on our side! I wouldn't hesitate to contact Heather if you're looking for someone who can help get you exposure & leads.

One To One Group


May 10, 2022

We have had the great fortune of accessing Heather's skills and talents over the past six years. Heather not only supports digital media training for our students, she also consults... read more directly to us on our digital media including social media and Google. Heather has a wealth of knowledge, is extremely professional and proficient, and is always a pleasure to connect with. Many thanks Heather, Leanne Cooper, director, Well College Global.

WellCollegeGlobal


May 10, 2022

Website Love have been a wonderful, reliable service in setting up my website and having it run smoothly. They provide education, support, patience and help with the intimidating process of... read more getting started in the digital world. Heather is very human and kind, as is their whole team. The cost is much less than the value. Don't mess about attempting to do it yourself. Add years to your life and get them to. Thanks guys!

Le Del


May 10, 2022

Been working with Heather for over a year and a half now and the transformation on my website from when we started until now, has been amazing. The whole look,... read more feel and flow of the website has my clients complementing me which I owe to her. Social & Google Ads have worked very well under her management and Heather's great customer service towards me and the business is fantastic.

Robbie Chapman


May 10, 2022

Heather and her team revamped our website and made a new online store for our products. We now receive consistent enquiries and SEO and plug ins work great. The team... read more are super fast to respond to problems and I can highly recommend the website maintenance package where everything is taken care for you.

Amber Seidler


May 10, 2022

12 months ago I moved my website hosting and website management over to Heather and her team at Website Love and I couldn't be more impressed with the service and... read more knowledge provided to me. I had been with a company who poorly managed my business website previously and working with the team at Website Love has been a breath of fresh air and my website now operates without issues. I now have confidence in the operating procedures of my website. I highly recommend this business for its outstanding service. 6 STARS ⭐️

Kylie Trevaskis


May 10, 2022

I first encountered Heather Porter through my local BEC. She gave a one hour free webinar that finally demystified SEO copywriting for me. Heather's courses are filled to overflowing with... read more insightful and actionable information and Heather herself is an extremely engaging presenter. Heather's areas of expertise are both broad and deep. She cuts through the mumbo jumbo and focuses on empowering website managers, business owners and wanna-be's like me. Add to that her good humour, lack of pretention and clarity, she is one of the most valuable resources I have as I develop my expertise in copywriting, online marketing and website management.

Dani Haski


May 10, 2022
STEP 1: Let us know a little bit about you...