The 8 elements of a good VSL (Video Sales Letter)
If you are not using video to sell your products and services you need to hear this!
Some of these stats will surely surprise you, and have you running for your camera.
Check this out!
68% of marketers say video has a better return on investment than Google Ads.
Viewers retain 95% of a message when they watch it in a video, compared to 10% when reading it in text.
72% of customers would rather learn about a product or service by way of video.
Including a video on your landing page can boost your conversion rate by up to 80%.
If that does not convince you, you can see more stats here.
Have you heard the acronym VSL?
It means video sales letter, and is basically a video that you can put on a page on your website where you sell your products or services.
Here is a formula you can use to create a VSL:
Hook them in the first 5 seconds, what is something you can do to attract attention and get people to keep watching?
Lead with the strongest benefit, or the main thing you do to solve someone's problem.
Introduce yourself, your business, and why someone should listen to and trust you. This is like your elevator pitch.
Tell the story of what you sell in a fresh compelling way - make people want it!
Share social proof. Do you have video testimonials? If not you can share photos of people using your product. Or share written testimonials. You can even read them out.
Stack the value if you can. Share what they get as part of the package. Can you add in bonuses? Bundles?
Assume the risk – do you have a guarantee you can share?
End with a strong CTA (call to action). And if possible add in urgency or scarcity – for example, the cart closes on a certain date. Or you only have a few left.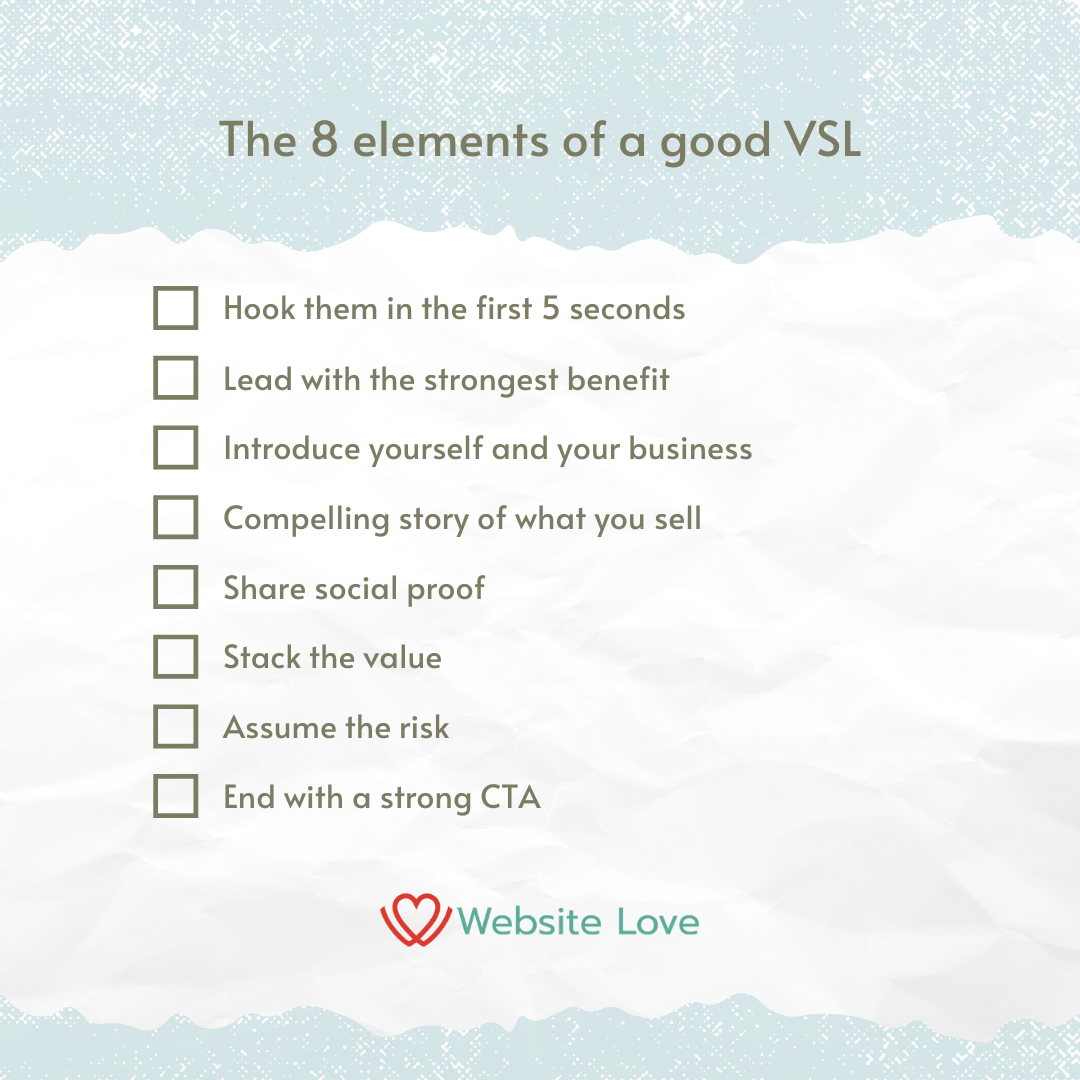 Here's two quick tips to make your Video Sales Letters perform better:
If you have an ecommerce site with a lot of skus maybe start with your bestsellers or main product categories.
Normally the higher the price the longer the video needs to be. I have seen some VSLs that were 30 min long for programs that cost over $2,000!
Now, take this script, grab your phone and try filming one of these videos.
There are plenty of affordable editors on Fiverr.com and Upwork.com who can make it look amazing.